I'm on the verge of going on a very, very big trip. We get 6 weeks of vacation between medical school and residency - and it is the only substantial block of time off that I will get in the next 5 years, so a big trip is indeed the order of the day.
For the last 3 years, Penguin and I have been plotting to paddle across Algonquin Park. We've slowly accumulated all the supplies, painstakingly mapped the route, spent the last 3 summer vacations (measely 1 weekers that they were) testing the route in chunks as well as testing our own endurance and our gear. Now, on the eve of the trip, with all the planning done, it seems entirely possible.
There's only one problem: paddling across the oldest Provincial Park in Canada, not to mention one of the largest, doesn't actually take that much time. In fact, Penguin and I plan on doing the trip - 165 km in total, including all 38km of portaging - in about 2 weeks. That leaves 4 weeks of vacation left.
Now, any normal person might be tempted to say: heck yes! 4 weeks of vacation to relax, spend time with friends and family, read books, pack up and move to a different province... sounds lovely. My response, however, was quite different and can be summed up in one word: PANIC.
I cannot sit around for 4 weeks. Not only will I go stir crazy but I can't bear the thought of losing out on the protected time to adventure - especially when I know that I won't have another opportunity to do a trip longer than a week for the next 5 years.
This, of course, prompted a very desperate and thorough search of the internet for potential trip options. The criteria for the trip included the following:
- must take longer than 1 week
- must be epic
- must be active (ie. no sitting around!)
- must be cheap (less than $3000)
- must include a group, since Penguin probably can't get more than the 2 weeks vacation needed to do Algonquin and I would get lonely by myself.
And here's what I came up with...
Bike Tour across Holland
(the country of my heritage) during the tulip season; company: Bike and the Like; problem: trip dates don't line up
Bike from Belgium to Paris
, France; company: Bike and the Like; problem: tour is full
Bike (do you see a theme?)
the Cabot Trail
; company: Freewheeling.ca; problem: trip dates don't line up
Camp on the
Floe Edge outside of Pond Inlet
and watch wildlife with biologist; company: Adventure Canada; problem: waaaay too expensive
Finally, Steel Wheels turned me onto Intrepid Travel and on their nifty website I found the holy grail of internet-company-based holidays:
HIKE TO MOUNT EVEREST BASECAMP
.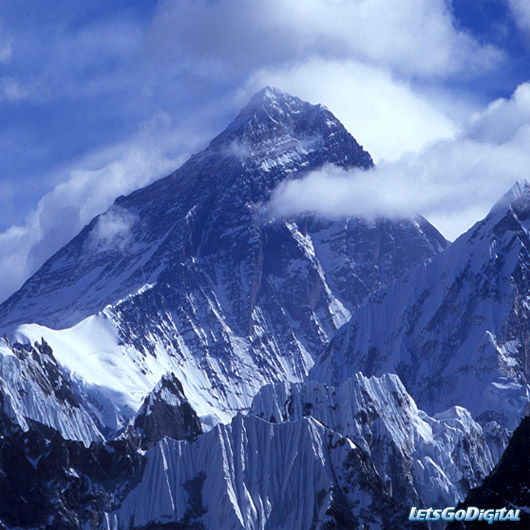 Awesome
, I thought. The dates are perfect, the budget is within limits, there's a group and a guide, all I have to do is show up. And it will be
epic
.
But, in the 2 days since God knocked on the door of the internet and I opened the browser called Opportunity, I have found myself feeling strangely ambivalent. And by ambivalent, I don't mean apathetic. I mean: existing at emotional extremes.
The first night, I could not sleep at all. Literally, I starred at the ceiling all night long and could not calm down from the excitement. The perfect trip - and one of the goals on my fridge, too! I had dreamed of seeing everest since I was 8 and discovered a book by Pat Morrow on my parents' bookshelf in the basement. I tore out a centerfold map of everest from a National Geographic magazine shortly thereafter and taped it up on my wall. I would use my finger to trace the route of Hilary, Morrow, and others up along the precarious Khumbu icefall, through all the camps, to the summit dreaming that one day, I would also make the climb. I have read no fewer than 8 first-hand narrative novels about climbing everest and countless magazine and newspaper articles over the years. In fact, one of the major motivating factors for me to go into medicine was the possibility of being an expedition doctor and thereby earning free climbing permits by providing medical support to the team.
To hike to basecamp would be a childhood dream come true.
But then, after I caught up on my sleep the next night, I began to feel uncertain. It was too good to be true. I hadn't done enough research (by which I mean, I had never seriously looked into different companies that do the trek, what vaccines I'd need, how fit I'd have to be, what season to go in, etc). After some more hunting around on the internet, I found a few things:
Intrepid was, by about $1000, the cheapest company to go with. Which was good for my bank balance but not so good for my piece of mind. How were they saving so much money? For one, they didn't offer any food. Local food was to be purchased along the way at the teahouses. This is certainly one way to immerse oneself in the local culture but when you're near the top of the world and the only way in or out is to walk or be evacuated by helicopter, it seems a bit dicey to introduce my naive gastrointestinal system to unfamiliar foods. Especially since you're not sitting around all day and, as with most of my "vacations" there is no plumbing or toilet paper. In contrast, some of the other companies bring along their own camp cooks and make the meals themselves to ensure good hygiene and the like.
Most of the other companies also used both yaks and sherpas to help bring our gear along whereas Intrepid only hires sherpas (not a big deal but I don't know much, so I wonder, why not yaks, too?). Also, the other companies tend to have their hikers sleep in tents vs Intrepid that, once again, utilizes the teahouses for accommodations. None of these are huge concerns but just little points to ponder.
The big sticking point for me is twofold:
1) This would be the realization of a childhood dream. Which means that I really want a good experience (dare I say, perfect)- and right now, it all feels very rushed. To get there and get back in the context of my broader post-medical-school-schedule would require perfect timing and zero errors. It would be very tight to get all the necessary visas, vaccines, medications, gear, etc together before departure day and still study for the LMCC. None of this is impossible by any means though.... so I think what really makes this hard is the mental shift it's taking me to think of my "impossible dream" that occurs at "some future time" becoming a reality in the next 2 months. Like Christmas, one of the best parts of a big adventure is the expectation and excitement leading up to it. I don't want to rush that - I want to savor it. I want time to plan and dissect and trace with my finger along a map every footstep rather than show up, feeling rushed and harried, and unsure of what's coming next.
2) Penguin can only get so much vacation time off - and he raises the valid point that doing both Everest and Algonquin would be a tall order (in the schedule there is one rest day between coming home from Nepal and putting the canoe in the water). He doesn't want to do Algonquin tired (nor do I) because we both know that there will be some tough days, physically, starting with Day 1. He also doesn't want to come back from Algonquin tired because we both have lives and responsibilities. I, for one, have to start surgical residency... and I sure as heck won't be catching up on sleep at that point!
So, when it all boils down, here's what we've got:
Penguin can do one or the other: Everest or Algonquin. I could always do Everest without him but I don't really want to. He is the most important person in my life and climbing to basecamp is one of my most cherished adventures - we'd like to share the experience together.
I won't have time to do Everest until after residency if I don't do it this summer. Algonquin, on the other hand, is relatively more close by and can be broken down into a series of 1 week sections that can be accomplished during different seasons (ie. do the first half one year and come back and do the second half the next year).
But, Algonquin is also a big trip for us. It is the first big adventure that we will be undertaking having planned and executed ourselves. There is no company providing the gear and food and guide. It's all us. And that means a lot to me. I've been pouring over my Algonquin map for the last 3 years. Every time school got tough or I got disillusioned, I'd pull that map out and add up the portages again, tweak the route, plan the campsites... and all would be right in the world again. I would say that I've been working through medical school not so much for the diploma but rather the opportunity to paddle Algonquin. Rather than walking across the stage, I want my convocation to be paddling my way across the wilderness.
This is why I feel ambivalent. Everest or Algonquin? Childhood Dream or 3 Year Project?
It's enough to make my head ache and my heart yearn.
What would you do?